Reduce your stress by letting someone else take the wheel. No need to worry about finding parking! Go green on" Dump the Pump" day.
MSA wishes you a Happy Dump the Pump Day! On June 15th, we encourage you to save time and money (on gas) by using public transportation instead of your vehicle.
What is Dump the Pump Day? Dump the Pump occurs every third Thursday in June and was created to encourage public awareness of alternative transportation methods. We use a lot of fossil fuels, so the challenge on these special Thursdays is to use public transit or hop on your bike to get to where you need to go.
How will MSA Design celebrate this holiday? MSA Design has partnered with local and regional transit providers to develop unique, award-winning, high-performing public transit facilities. These facilities serve to improve community transportation options and connect people across our region.
Public transportation should serve everyone in the community. These facilities help ease the effort of taking public transit and enhance the experience, rather than diminish the experience of utilizing public transportation.
The needs of the community and the rider's experience are the primary focus when designing transit facilities. The goal is to enhance place, improve mobility, increase ridership, and make communities more accessible to all. Often transit facilities are considered an afterthought in many communities. The impact of how a well-designed transit center can affect a surrounding site is often not considered.
Due to the complexity of designing transit facilities, it requires the following:
A balance between highly-technical and functional requirements
Adopting and meeting site constraints
The ability (for both pedestrians and vehicles) to maneuver in and around the facility safely and efficiently
Considering the comfort, accessibility, and safety of riders
One project that MSA Design worked on recently that met these objectives was the Government Square Transit Center. This facility needed organized to accommodate various types of traffic while providing a safe place for riders. The iconic transit center is now considered a landmark in the heart of Downtown Cincinnati and serves hundreds of Cincinnati residents each day.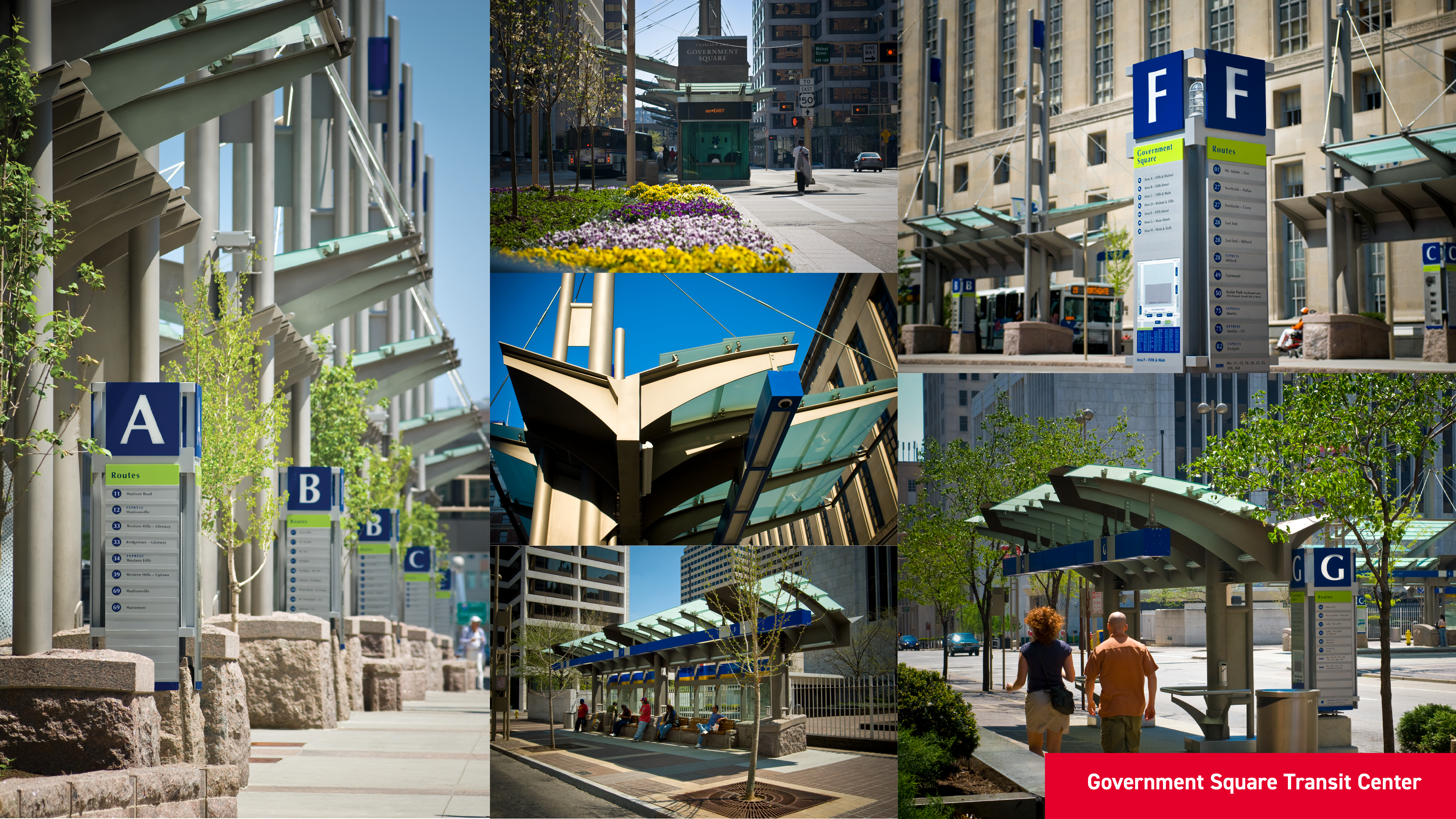 Designing transit facilities starts with an understanding of movement patterns, access, visibility, and site characteristics.
When designing the Uptown Transit District, heavily populated areas had to be taken into consideration with the goal of providing minimal footprints and clearance. The University of Cincinnati's location to the transit stops was also a consideration, as the transit center would need to also serve students and staff from the university. The locations were also in historic districts, which provided their own set of challenges.
To customize and adapt to each site condition, MSA Design created a "kit-of-parts" approach. Primary elements included:
Increased lighting and visibility
Covered waiting areas with seating options
Clearly marked transit platforms
Horizontal and vertical markers
Customized signage and branding to celebrate the community and communicate rider information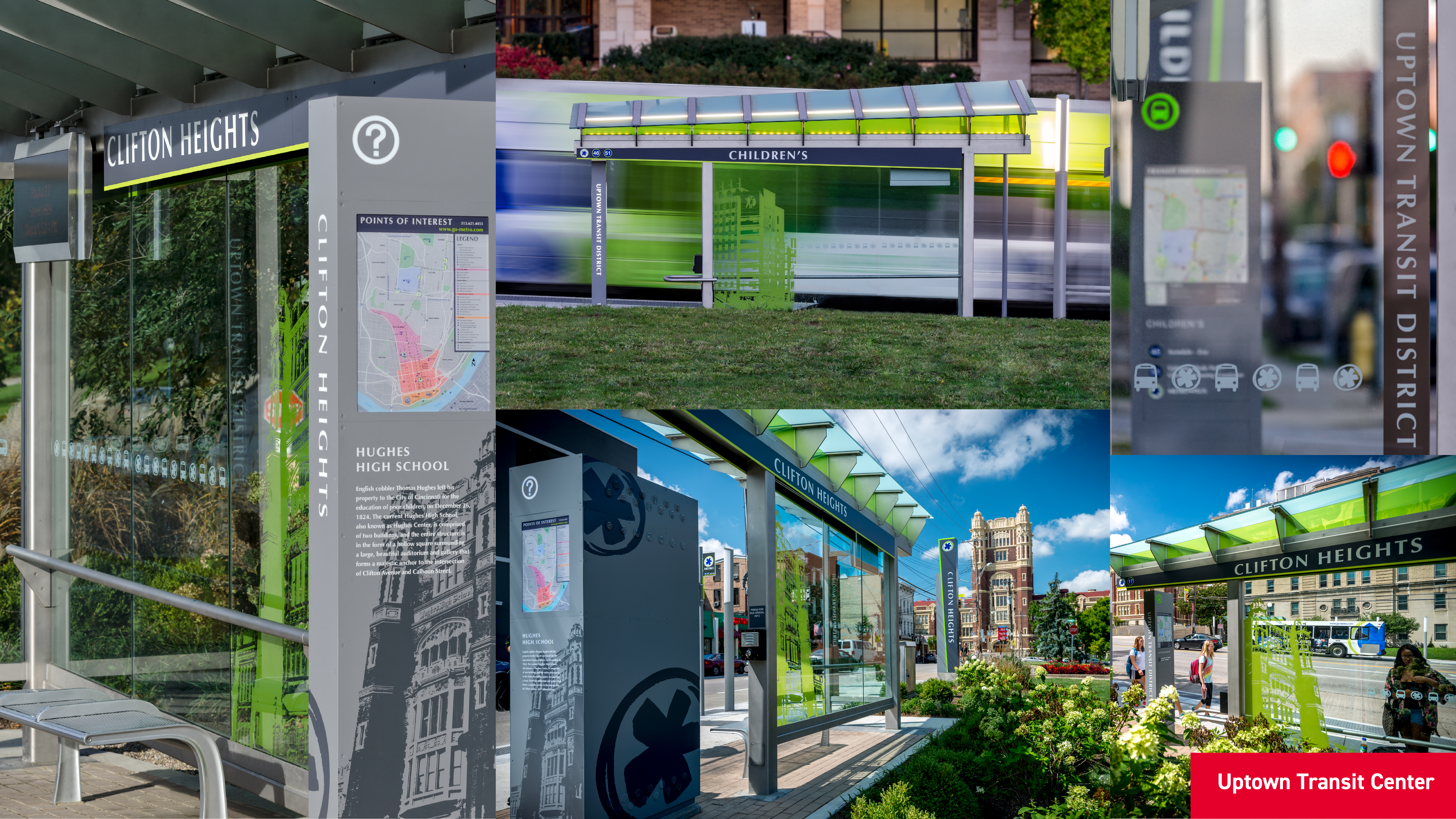 0nce implemented, the Uptown Transit District's new design increased accessibility and enhanced the rider experience.
Community engagement is essential in connecting transit-focused facilities to the communities in which they serve.
MSA Design worked with the community to understand specific needs and identify opportunities to ensure that their designs provided a positive impact.
For the Northside Transit Center, our team created outreach opportunities by collaborating with many community groups. These groups consisted of active members in the Northside Community such as artists, business owners, religious and educational institutions, and residents. MSA Design facilitated design charettes for members to contribute to the development of this project, and directly impact the final design solution. Here, MSA Design learned more about the history of Northside, and how the transit center could impact their community. MSA Design was able to use that information in the signage design. Using imagery and history as storytelling pieces in the design of the transit center created a greater connection to Northside neighborhood.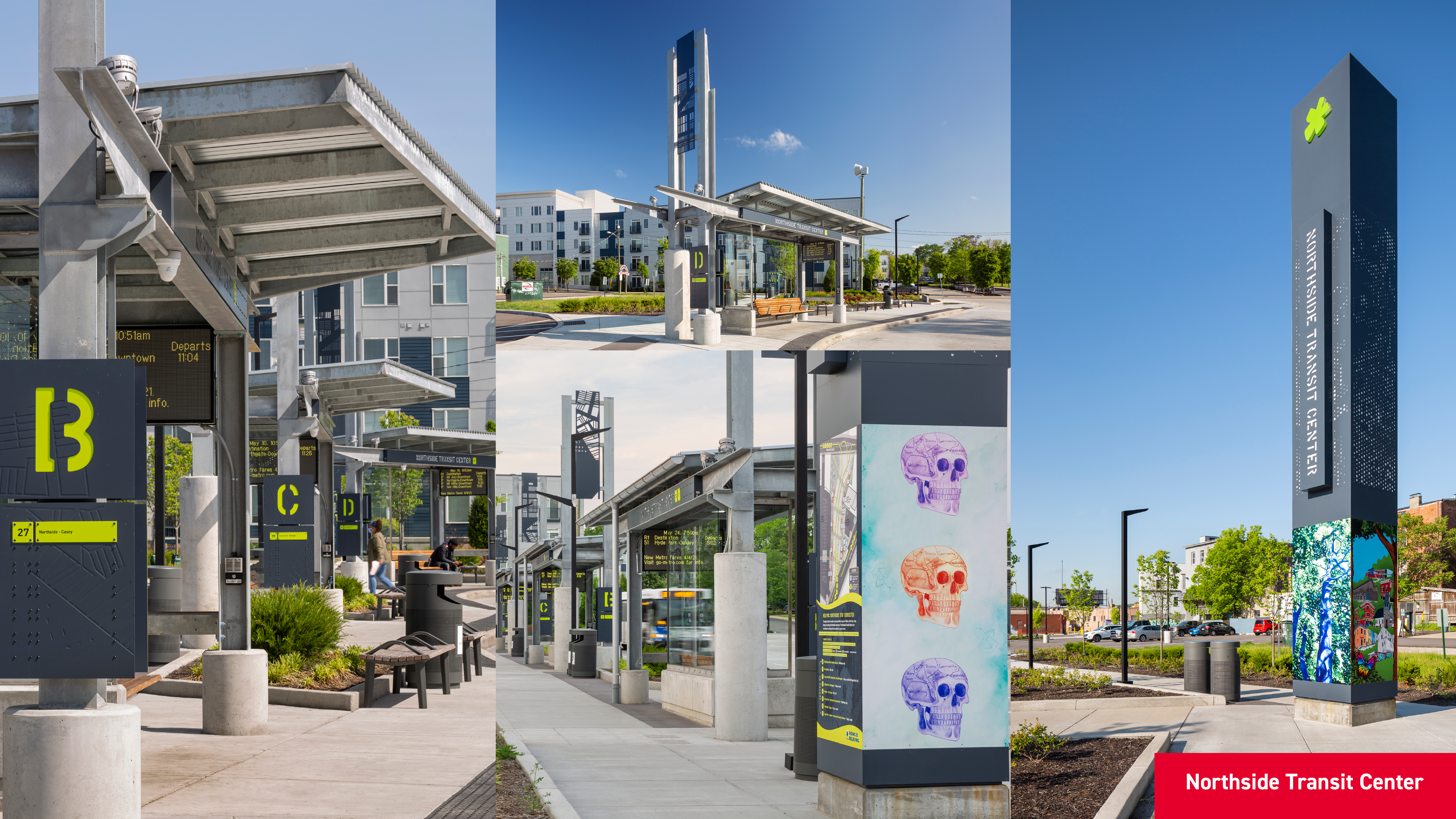 Transit design is more than creating places for people to wait for the bus. It presents an opportunity to celebrate and improve communities, connect people and places, enhance rider experience, and create positive change. By integrating transit facilities into the fabric and stories of neighborhoods, MSA aims to make public transportation viable and enjoyable option for everyone. On Dump the Pump Day and so on, let's utilize alternative transportation that benefits us and our communities.