March. Madness.
It is hard to find two other words that can immediately evoke a sense of anticipation and excitement.
Even if you are not into sports, most people have a general idea of what the phrase implies. Maybe that's simply the result of a masterclass in ever-evolving marketing over the past 80 plus years.
These two words when joined invokes a sense of endless possibility. Why else would so many people fill out so many brackets and tune-in for the first two rounds of this tournament watching college basketball teams. The sports world puts itself on pause that first Thursday and Friday – only one activity exists. We all see how the teams are seeded, and we understand the slim chance an underdog truly has. But anything is possible, right? Just ask the University of Maryland, Baltimore County Retrievers.
But what we see on the court floor over these 67 games spread out across 4 weeks is only the beginning.
While it can be very apparent the amount of effort a college athlete puts in over the course of a 40-minute basketball game, what isn't so easily understood at first glance is the amount of physical training, practice, rehabilitation, studying, and dedication went into preparation for those 2,400 seconds. No matter how many minutes any given athlete plays during a game, their behind-the-scenes paths are very similar.
And what supports and guides those paths?
It's most certainly their families, friends, coaches, fellow students, and fellow teammates. But what about the facilities? The bricks and sticks competition venues, practice venues, training rooms, and the rehabilitation centers. These programmed-support spaces play an invaluable role in the development of the student-athlete – both physically and mentally – no matter what sport they play.
At MSA Design as a collective, and myself personally, we have the great privilege of working with many higher-education institutions – Xavier University, Centre College, Wilmington College, and the University of Cincinnati to name a few – that value and invest in these facilities with full understanding of the impact they have in the development of the student-athlete. These spaces all celebrate the past, present, and future simultaneously. From the achievement banners hanging proudly in the rafters, to the competitive game at hand being observed by the next future prospect.
Over the course of the past ten years, Xavier University has strategically identified and successfully completed numerous renovations across their various athletic facilities, both indoor and outdoor. Their indoor competition venue, the Cintas Center, now boasts the Klekamp Family Training Center as a second practice court facility, expanded strength and conditioning space, new training and recovery rooms, enhanced fuel station, and completely renovated locker rooms for all sports. Across campus, they took advantage of equity in an existing building, the former university recreation center, and completely reprogrammed and repurposed into the home for all non-court sports as the new Heidt Family Champions Center – weight training space, aquatics, indoor turf field, batting tunnels, locker rooms, athlete lounge, and team meeting rooms included.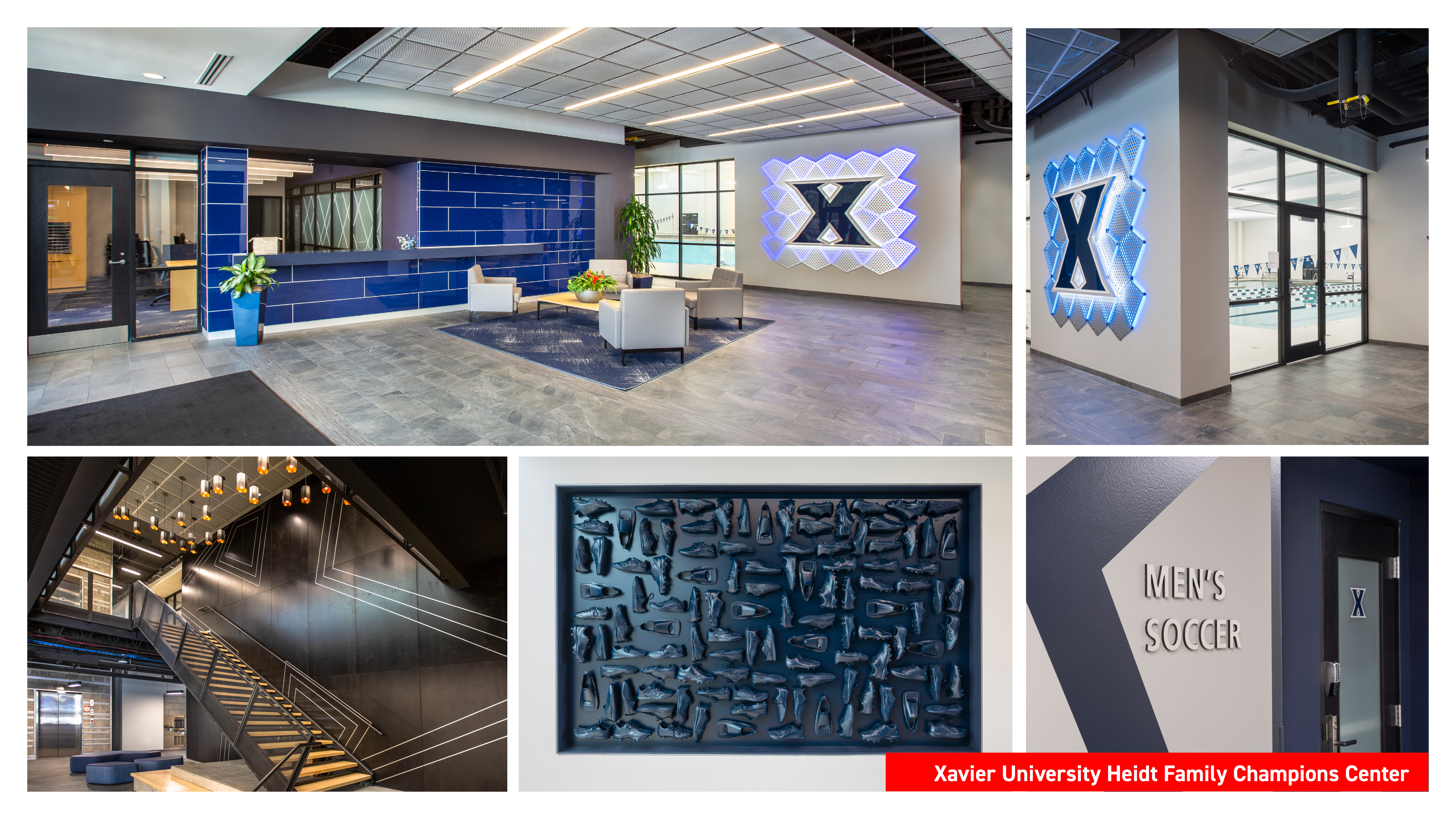 Both Centre College and Wilmington College looked to new ground-up facilities enhancing both the campus fabric and the athletic training / competition environment. Centre College expanded in a grand way with their Initiative for Wellness and Athletic Excellence focusing primarily on competition venues. The various new facilities are inclusive of a Baseball Stadium, a 3,000-seat Multi-Sport Stadium (football, men's lacrosse, and track), and Fieldhouse & Natatorium inclusive of an indoor track and 50-meter pool. Wilmington College looked to boost their athlete performance, training, and education amenities with the Center for Sports Sciences. The new facility houses their athletic training program offering a hydro training area, classroom space, recruitment space, and a 15,000 square foot indoor synthetic turf field which opens to adjacent exterior turf.
The University of Cincinnati has made vast athletic improvements across campus both with new facilities and renovations to existing – the Sheakley Athletic Center being an example of both. Built as a new practice and competitive venue with temporary indoor full-field training capability back in 2009, the site is currently being transformed into a permanent indoor training facility with full-field under roof and an adjacent performance center focusing on programming to advance the wellness and physical training of the student athlete and support staff.
Let's bring it back around.
What do all these collegiate facility improvement projects have in common? All were executed with incredible success because each started with an extraordinary vision that focused on the wholistic improvement of the student-athlete.
Each project fully understands the anticipation and excitement that is associated with collegiate athletics – both by the participants and the observers – and capitalized by providing facilities that fully delivered. All were driven by the sense of possibility, understanding these are the homes to the collegiate athletes today with focus on becoming tomorrow's professional.
So, in the next couple weeks when you flip on the television to watch the conclusion of a number 16 seed taking on a number 1, just remember that each student-athlete on the court is looking to conclude a long journey that included countless hours within an athletic facility while focused intensely on success. Understanding that anything is possible.
And for the sake of anticipation and excitement everywhere, that number 16 seed wants it more.